The Littleton Area Chamber announces a call to artists for a juried art exhibition. The 48th Littleton Art Festival is open to all fine arts media including: painting, drawing, sculpture, photography, jewelry, pottery, stain glass, and fiber. Professional artists working within New England or New York are eligible.
Artists Entry Form Here…..
Registration Deadline:  August 1, 2017
Schedule Of Events
FRIDAY, SEPTEMBER 21 | KICKOFF PARTY
7pm – Kickoff Art Festival Weekend with a live musical performance and a kickoff party at 42 Maple Arts Center in Bethlehem, NH.
SATURDAY, SEPTEMBER 22 – ART FESTIVAL
9am–4pm – 49th Annual Littleton Area Art Festival
Annual Art Festival on the sidewalks of Main Street featuring some of New England's finest artists.
9am – 1pm (SAT & SUN) – Penny Sale at The Littleton Senior Center

9am – 3pm – Littleton Public Library Book Sale at The Littleton Senior Center
Bag Sale begins at 1pm.
11am – 2pm (SAT & SUN) – Historic Art Tour at Littleton Public Library and Littleton Community Center
Join Dick Hamilton on a tour of 19th century White Mountain art. Tours start at 11 am from the Littleton Community Center and continue until 2 pm at the top of each hour. The tours are free but donations will be accepted.
11am – 2pm – 27th Annual Pie & Cheesecake Festival at the All Saints' Episcopal Parish Center
Enjoy a slice of 20+ varieties of homemade pie and cheesecake, served by the slice with ice cream. Limited whole pies available for purchase.
Noon-2pm – Music on the Lawn at the Littleton Community House
Noon–11pm – Schilling Oktoberfest
Outside on Schilling plaza in Littleton's River District experience specialty beers, outdoor dining and live music.
1:30pm – Littleton Lions Club Antique Car Parade
3:00pm – The Daughters of Corn Nicaragua Dance Troupe
At the Littleton Opera House.
SUNDAY, SEPTEMBER 23
8–10am – Littleton Lions Club Pancake Breakfast
By donation Sunday brunch at Sears Field, Meadow Street.
9am – 1pm (SAT & SUN) – Penny Sale at The Littleton Senior Center
11am – 2pm (SAT & SUN) – Historic Art Tour at Littleton Public Library and Littleton Community Center
Join Dick Hamilton on a tour of 19th century White Mountain art. Tours start at 11 am from the Littleton Community Center and continue until 2 pm at the top of each hour. The tours are free but donations will be accepted.
10am–1pm – Littleton Farmers' Market

---
Featured Artists
Debbie Aldrich
I have been working in Watercolor for over 40 years and it is my life's passion. The medium allows me to be spontaneous & immediate with emotion. Expression is more important to me than realism.
I make two lines of pottery to represent the 2 sides of my personality. One side of me is wild and crazy and for this side I make stoneware mugs with grumpy faces that say "Before Coffee". I also make yarn bowls in which the yarn comes out of the nose or mouth of a unique face. I also create extremely unique and delicate porcelain bowls with handmade flowers or critter perched on the side of the bowl. These are in direct contrast with the rough and humorous stoneware that I make.
I am a handweaver, working with antique looms and other antique tools to produce household textiles such as towels, napkins and placemats. I design all of my weaving, inspired by designs and colors from many traditions and time periods, but with a modern sensibility. Natural fibers give my work utility as well as beauty, and my textiles are made be used. My goal as an artist is to bring beauty into everyday life, enhancing mundane tasks as well as special occasions.
Roger Brisson
Roger is an accomplished leather worker and in demand leather carver. He describes them as functional pieces of artwork. If you appreciate the smell and feel of real leather, hand carved and hand stitched made locally, with one-of-a kind designs you will want to own one of his unique works of art. Recently ranked 12th out of 34 top leather artist in the world at the 2016 World Leather Debut held in Sheridan, Wyoming. People enjoy watching him demonstrate his craft at shows.
Sinead Cleary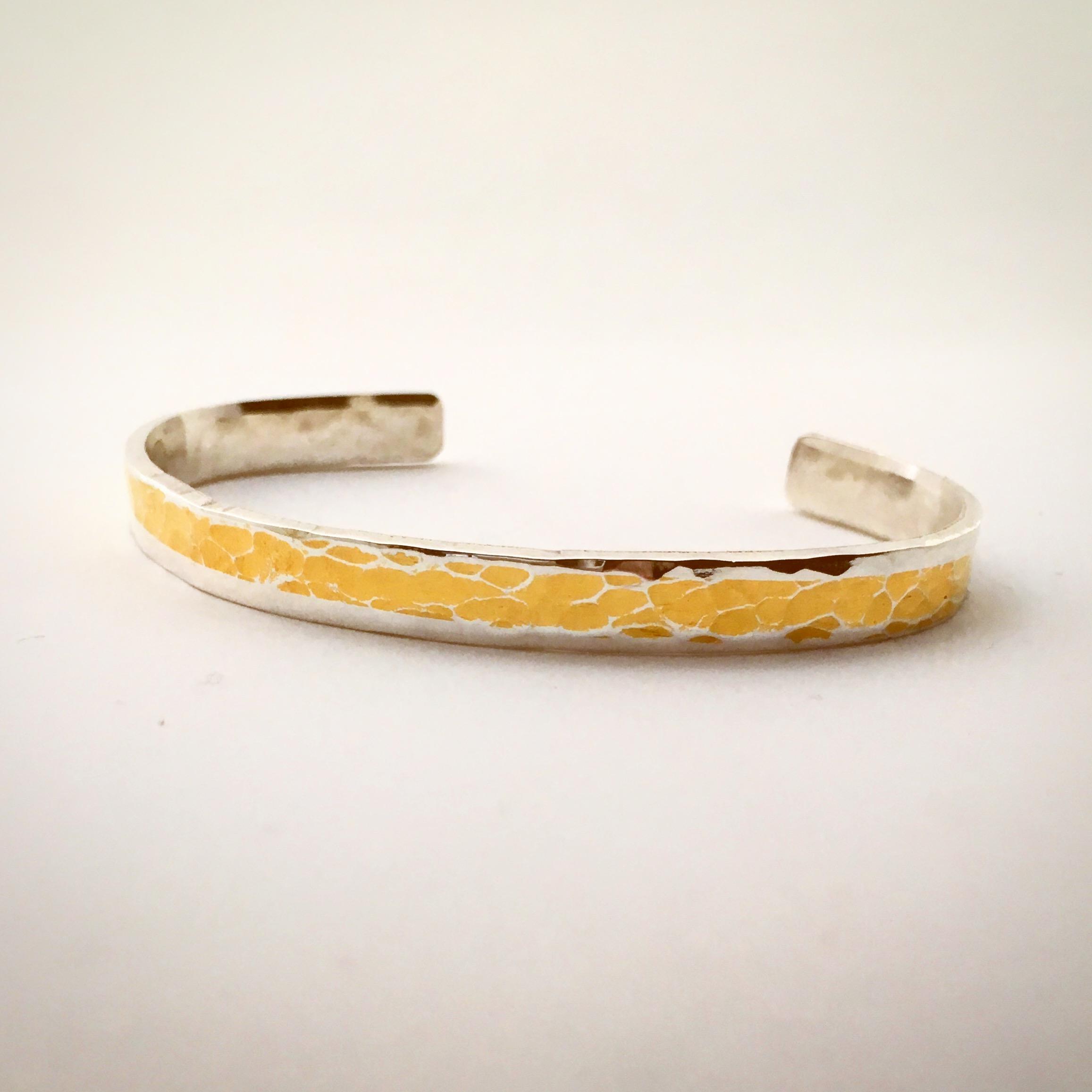 From a small beach town in Rhode Island, Sinead grew up with a passion for all things art. She began studying jewelry making in 2012 where her line, Sinead Cleary Jewelry, was born. She specializes in simple designs with a special touch. Made with only the finest metals and materials, her ageless pieces are sure to become your everyday favorite.
I capture life as it is in nature and the animal world with the medium of photography. I share it with others so they can enjoy thier Wonders too. I'm not a professional but love to capture these moments.
Carol Dillingham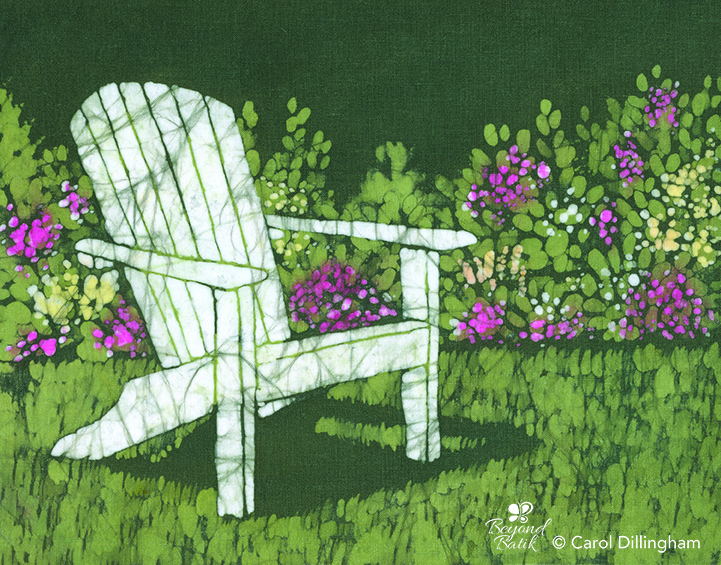 I am a Batik Artist, creating "paintings" of New Hampshire. Batik is an ancient technique of wax-resist dyeing applied to cloth. The colors on a piece are planned in an order that will compliment each other when one color is dyed over another. Wax is placed where the artist doesn't want the color to change with the next dying step. When each dying step is completed, the wax is removed and the beautiful colors are revealed. Each "painting" is an original work of art.

Donna Ellery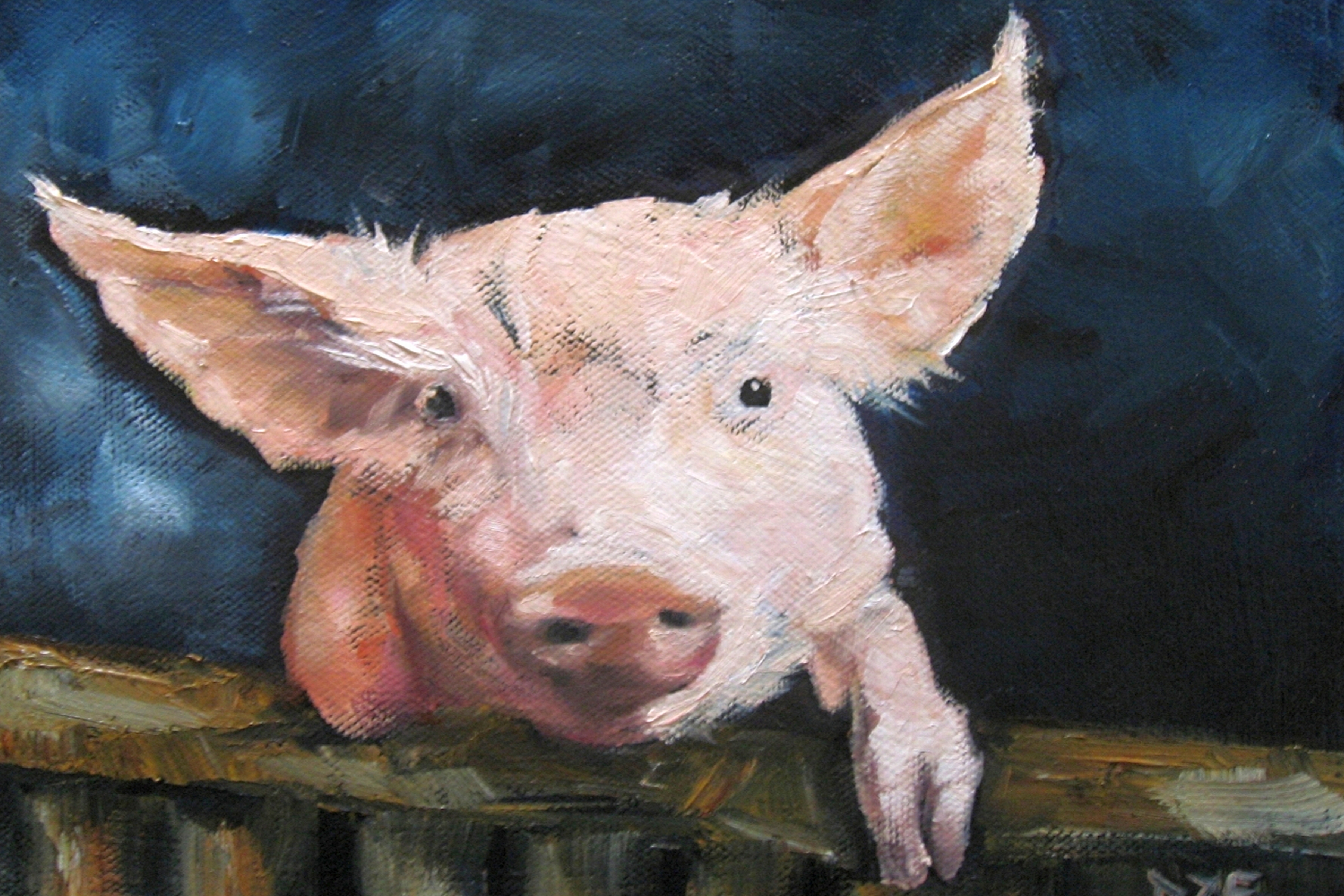 A former glass artisan for 25 years, I gradually moved towards using beautiful debris, refuse & the general flotsam of life in the 20th & 21st century. Recently I returned to the fine arts, having been trained in the traditional Dutch Masters tradition. My mentor, the late Carroll N. Jones Jr. would be happy to discover I am back at the easel, even if in more of an impressionistic style. However, I continue to create three dimensional works in between, to assuage the spirit in my fingers.
http://www.donnaelleryart.com/
Jeanette Fournier
Living in the rugged northern regions of New Hampshire and Vermont has been a strong influence, inspiring the focus of my nature art. My watercolor paintings and drawings of animals, birds and nature comes from a passion for the natural world in which I grew up, extending to other wild places where I have lived and explored. I want my artwork to remind people of the importance of having the natural world around us, being a part of it and of the significance of saving our wild places.
Tina Gagnon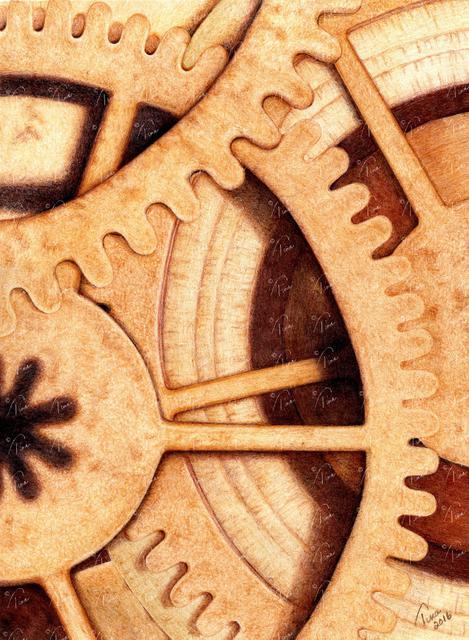 I am a color pencil artist whose work captures both the very vivid and sometimes subtle colors found in nature. Living and working in southern New Hampshire, I am a largely self-taught artist who enhanced my skills by studying at the NH Art Institute. My subjects are chosen from memories of my walking trips through the gardens, woods, and mountains of New England. By allowing fine detail, colored pencils helps me express a high degree realism, to recreate my subjects just as they are in nature.
Irene Goddu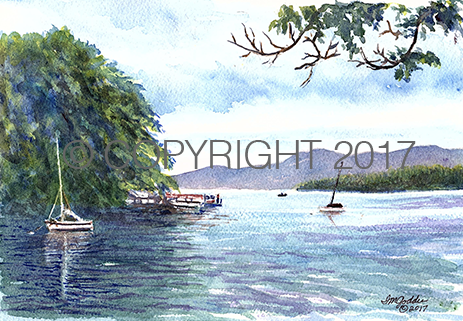 Irene Goddu, an accomplished watercolor artist for over 20 years, chooses to paint peaceful settings and places in and around New Hampshire. She creates landscapes and floral watercolors specializing with miniatures and working in larger formats as well. A self-taught artist, her style is a natural balance between realism and impressionism. Irene has won numerous awards in local, regional and international exhibits and her works are part of many corporate and private collections.
Lucy Golden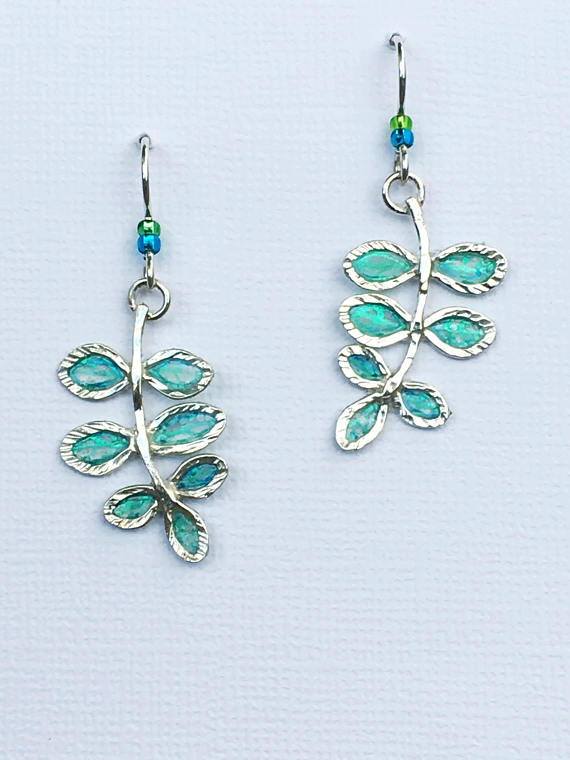 I have been happily making jewelry in the White Mountains for 30 years. My jewelry often reflects the natural beauty that exists here in the form of native butterflies, moths, birds, animals, wildflowers, and mushrooms. I use jeweler's brass and Sterling silver, and incorporate color whenever I can. I am a juried member of the League of NH Craftsmen and also teach at the Littleton Studio School.
Valerie Hill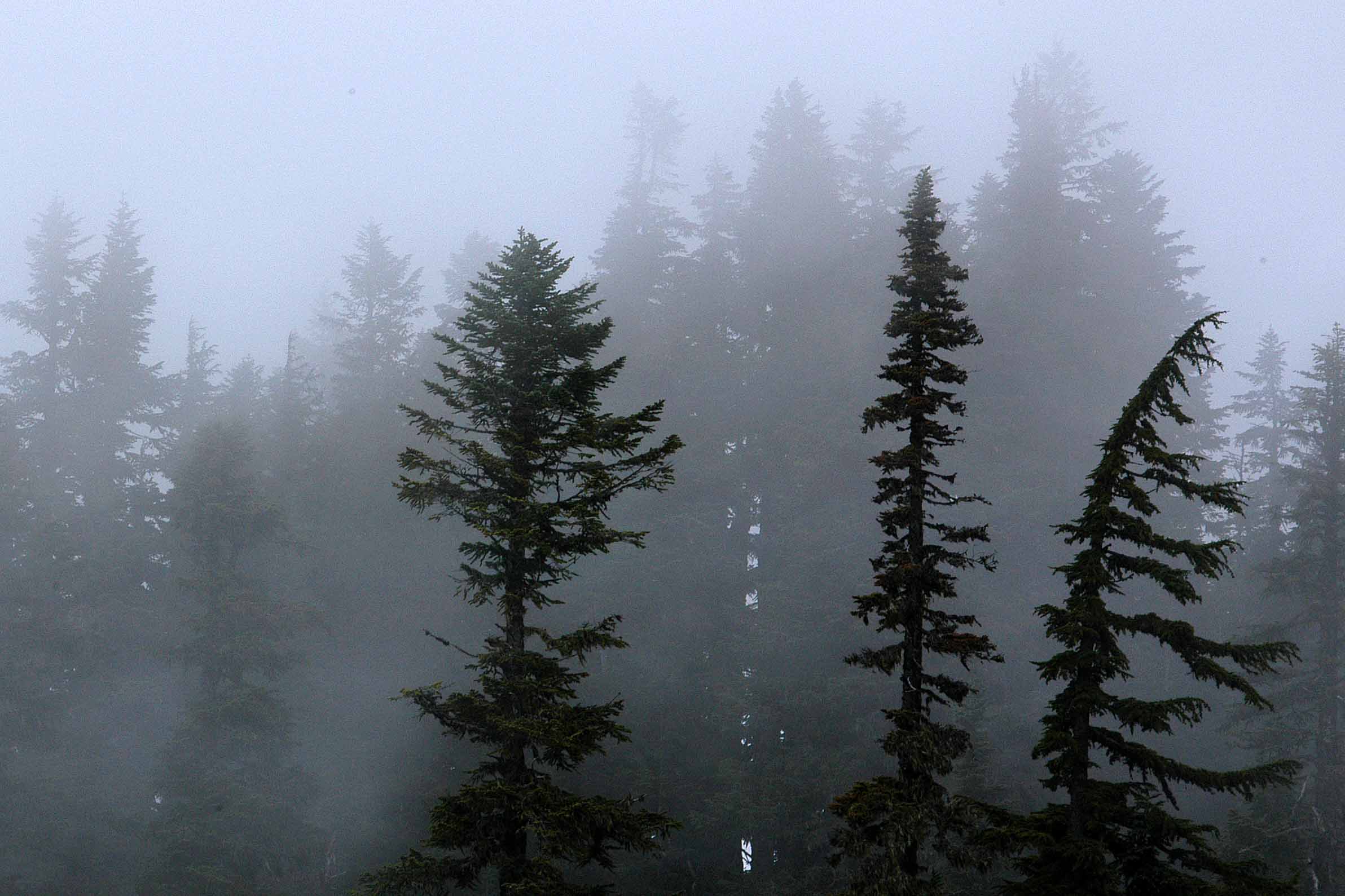 Northern New England landscape and nature photography.
Roger Irwin
Roger Irwin, is the person behind the camera that captures spectacular portraits of moose, bear, deer, bobcats, loons and a host of other north-woods residents. Since he sold his cows a dozen years ago, the former dairy farmer has emerged as one of the premier wildlife photographers in New England. His work is regularly featured in and on the cover of magazines ranging from Northern Woodlands to Vermont Life, as well as calendars, websites and pamphlets produced by Vermont and New Hampshire Fish and Wildlife, and the National Moose Foundation. Federal wildlife agencies, such as the Silvio O Conte Nulhegan Basin refuge center displays. Plus National Geographic web sites and maps.
http://www.rogerirwinphotos.com
Valery Mahuchy
I have been sculpting since childhood. My professional training was at The Academy of the Arts in Minsk, Belarus. I work in bronze, resin, wood, cement and marble. I sculpted outdoor monumental pieces and inside sculpter, portrairts, the figure , & abstrats. When I sculpt people I want to show their emotions. In my abstracts I want to convey the philosophy of life. A year ago in August I immigrated to America, for artistc freedom and to establish a career. My studio is in Bethlehem, NH.
I am an art institute of Boston illustration graduate and have painted now 45 years. I work in series spending a year or more on each. Some of my favorites have been my stargazer american indian series and amish series. My current focus is Harry potter images now totaling 7 large paintings and images from other movies. When I love a movie creating the work from it is a deeper personal experience combining the character and parts of their environment that tells a story.
Stephanie Marston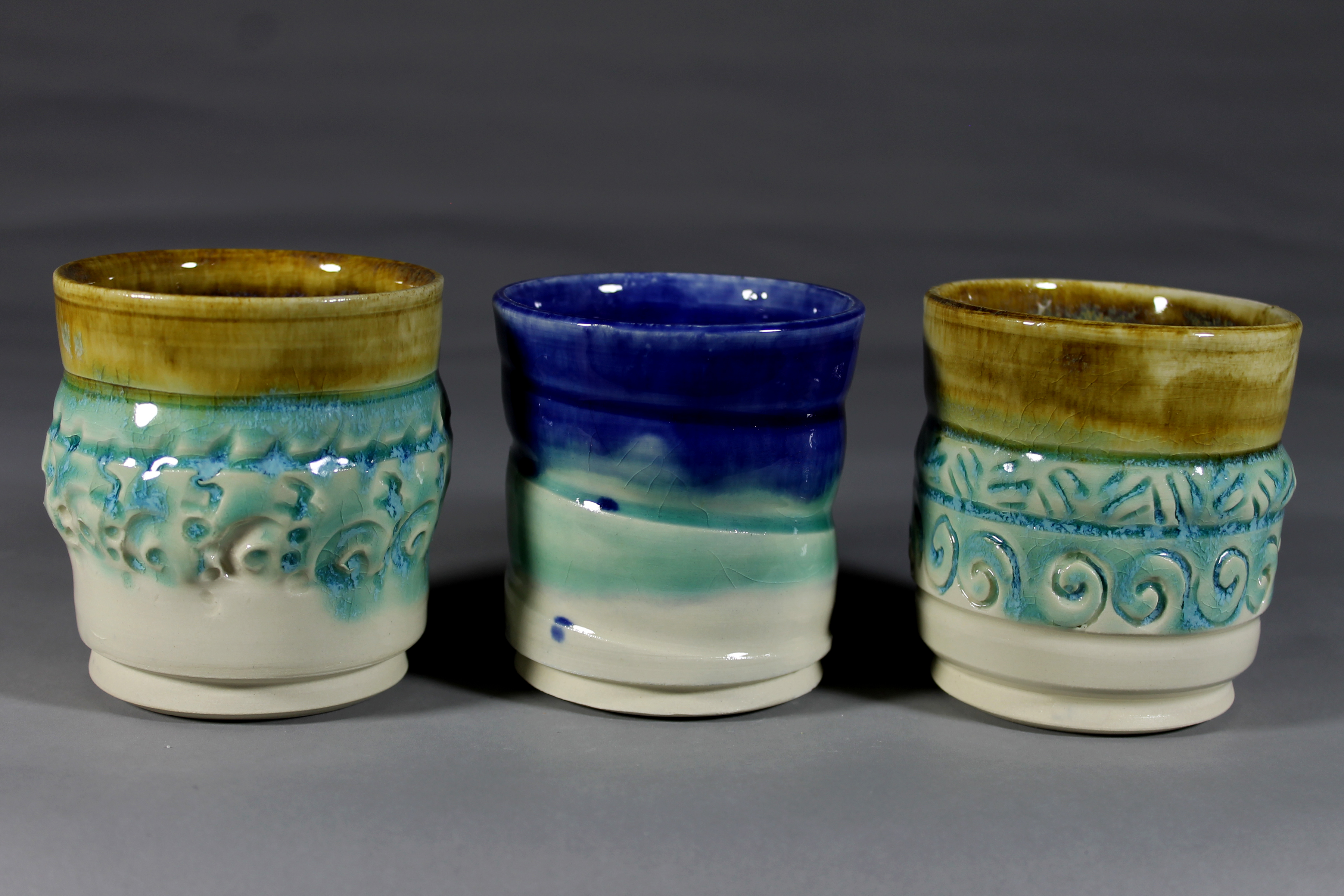 My husband and I are teachers and potters. We both fell in love with clay at different times in our lives but ultimately it's what brought us together. Currently, we are working with a mid-ranged white stoneware, using glazes in a jewel tone pallet that are then melted together to give the impression of a water colors melting down a page.
Robert Moore
Robert Moore is a creative, pop-art, impressionist painter whose work focuses on a unique and colorful view of the familiar. Utilizing his 30-year experience in computer image processing for the Geographic Information Systems industry, he reaches deep into his knowledge of computer graphics to help him visualize the subjects he paints. Robert works daily at his Lisbon, NH farm and enjoys painting "Baby-Boomer" era subjects and the natural environment as pop-art-portraits.
Beth Nagle Griffin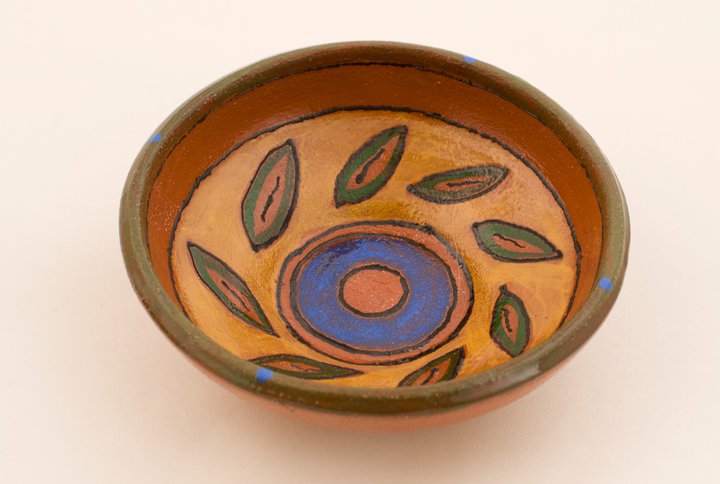 I love to create beautiful and useful pottery. When form and function play well together, we can experience the best of both in a hand-crafted object. Sometimes when a person buys a piece of pottery and find it very beautiful, they are afraid to use it. I feel pottery becomes even more beautiful with active, not passive, appreciation. My goal is to create pottery with shapes that feel comfortable in the hand, with colors and images that please the eye, and inspire a "feel good" in the heart.
I have a passion for painting the New England landscape from Cape Cod to the White Mountains. With my oil paintings I strive to capture that elusive light that makes the land come alive.
Joanne Owen
I create handcrafted one-of-a-kind baskets/bowls, trivets and coasters made from 100% Cotton Batik fabric. I hand wrap 3/4″ fabric strips around cotton cord and then sew on my sewing machine. I add a hand made ceramic button to each basket. I love the brilliant colors of the batik fabric and each item its uniqueness. Although time consuming I find it relaxing and soothing.
Andrea Packard
I hand make non-slip athletic/fashion headbands from my home. I started making these headbands because I always hated that I could never find a headband that didnt slip off my head so I took the challenge into my own hands to produce and hand make a headband that would stay on my head and not move around. I have had some great reviews from people who have bought that and they have let me know how great of a product the headbands are. I would love to share my product with my community.
https://www.etsy.com/shop/BadAssBands
Alaine Plourde
Gisele D. Thompson


Having relocated to her home state of New Hampshire after 28 years in Long Beach, CA, Gisele created a series of paintings celebrating the beauty and iconic scenes of the Granite State. Working from photos, the paintings are done in her studio with acrylic paints on canvas or wood panels. She has a Masters Degree in Fine Art and has been painting professionally for over 15 years. Member of NHAA, WREN and NH Made. Follow me on FaceBook: Paintings by G. D.Thompson
Francis Varkala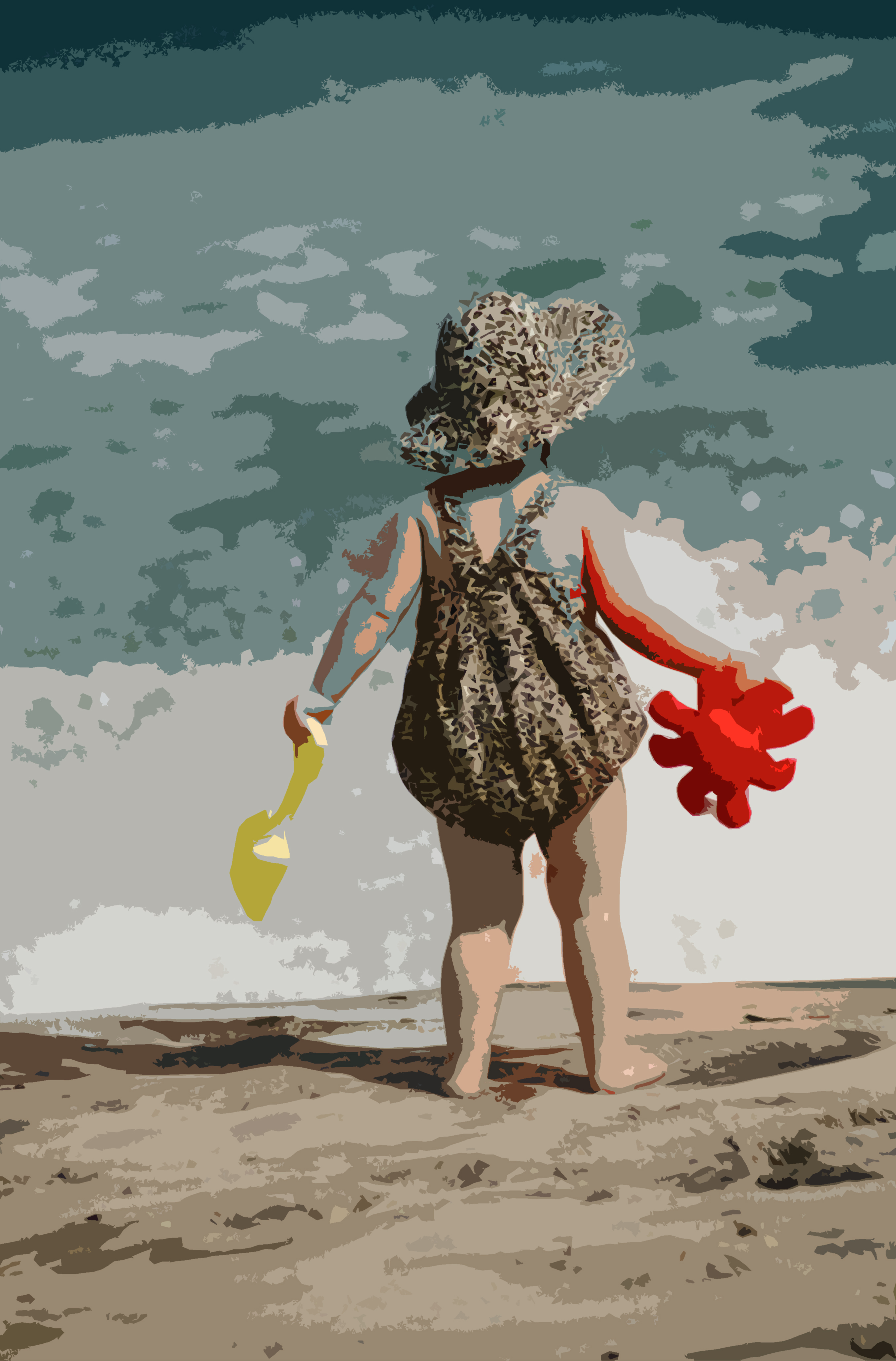 I have been a photographer for 25+ years, beginning at the NJ shore, and moving to the Northeast Kingdom of Vermont in 2004. Although quite active (30 or more shows per year during the first 20 years), I have scaled back to a few select shows each year in order to stay within the limitations imposed by growing older. My photographs are nature oriented, and I strive to simplify what we often see as a complex world….doing this by finding the essential elements which are sometimes overlooked…
Mimi Wiggin
Oil paintings of birds & wildlife exemplifying our beautiful natural word. Through my paintings, I want to bring attention to what is in our "backyards" and encourage all to live in harmony with our surroundings.
www.mimiwiggin.com
---
Littleton Art Galleries: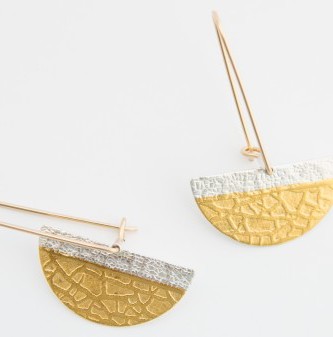 League of New Hampshire Craftsmen
Main Street, Littleton, NH
Littleton Fine Craft Gallery
The Littleton Gallery opened in 2004, one of the League's eight retail galleries around the state. We are located on Littleton's Main Street, on the Ammonoosuc River in the heart of New Hampshire's White Mountains. We showcase some of the state's finest craftspeople in our gift shop, working in jewelry, clay, glass, fibers, wood, metal, photography, baskets, printmaking and mixed media.
http://littleton.nhcrafts.org/
Littleton Studio School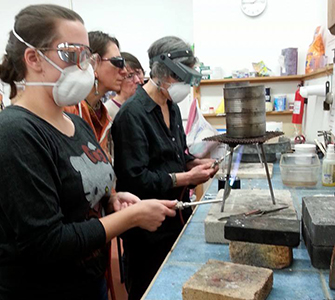 Mill Street, Littleton, NH
In 2008 the Littleton Studio School was established near the gallery at 21 Mill St. reinforcing the education mission of the League. It is a not-for-profit art and craft school that offers classes for students of all ages and at all levels of experience.
The school features a pottery and jewelry studio, with classes taught by both juried League members and professional local artists. We have a growing number of classes and workshops in other media, including painting, drawing, fiber, blacksmithing and basketry.
http://littleton.nhcrafts.org/classes/
Sign of the Times Creation Gallery
Main Street, Littleton, NH
Featured Artists:
Mike Bouton
Mr. Bouton specializes in creating daring and robust depictions of inner city life in Washington DC. These highly interpretive works ooze colorful, raw emotions from each pore of his canvasses. While most of his works characterize "life on the street," They are not "copies" of the action. Every Michael J. Bouton creation is an original formed in the mind and heart of its author. Bouton is a professional whose interests is in making the public aware of the societal conditions. Through his art he attacks the problems of inner city life: Alcohol and drug abuse, poverty and the everyday hardships that are faced by people "living on the streets." mikeboutongallery.com
For more info, contact:
Jessica Bunker
Littleton Area Chamber of Commerce
603-444-6561
jbunker@littletonareachamber.com