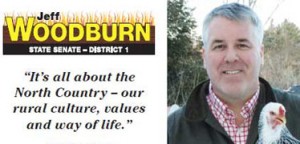 North Country Senator Jeff Woodburn is inviting interested high school students to consider applying for the New Hampshire Senate Page Program. It is a one-day commitment, he said.
"Being a page in the Senate is a unique opportunity to learn about and participate in state government," said Woodburn, a former high school civics teacher. While taking part in the Senate Page Program, students will be active participants in an actual Senate Session, this providing a firsthand learning experience regarding the role of the legislators in state government. Student Pages will be asked to assist the Senate Clerk's Office, and other staff members, with a variety of duties that will contribute to the ultimate creation of new laws that will govern the State of New Hampshire. In addition, students will have an opportunity to meet their own Senators and possibly share thoughts and ideas with them.
Throughout the Senate Session, Pages will sit in "front row" seats inside the Senate Chamber, where they can observe the live floor debates and the legislative process in action.
Interested high school students should contact the Senate Clerk at the Senate Chamber 107 North Main Street Concord, NH 03301 603-271-3420 (phone) 603-271-3545 (fax) SenateClerksOffice@leg.state.nh.us or Senator Woodburn at jeff.woodburn@leg.state.nh.us.