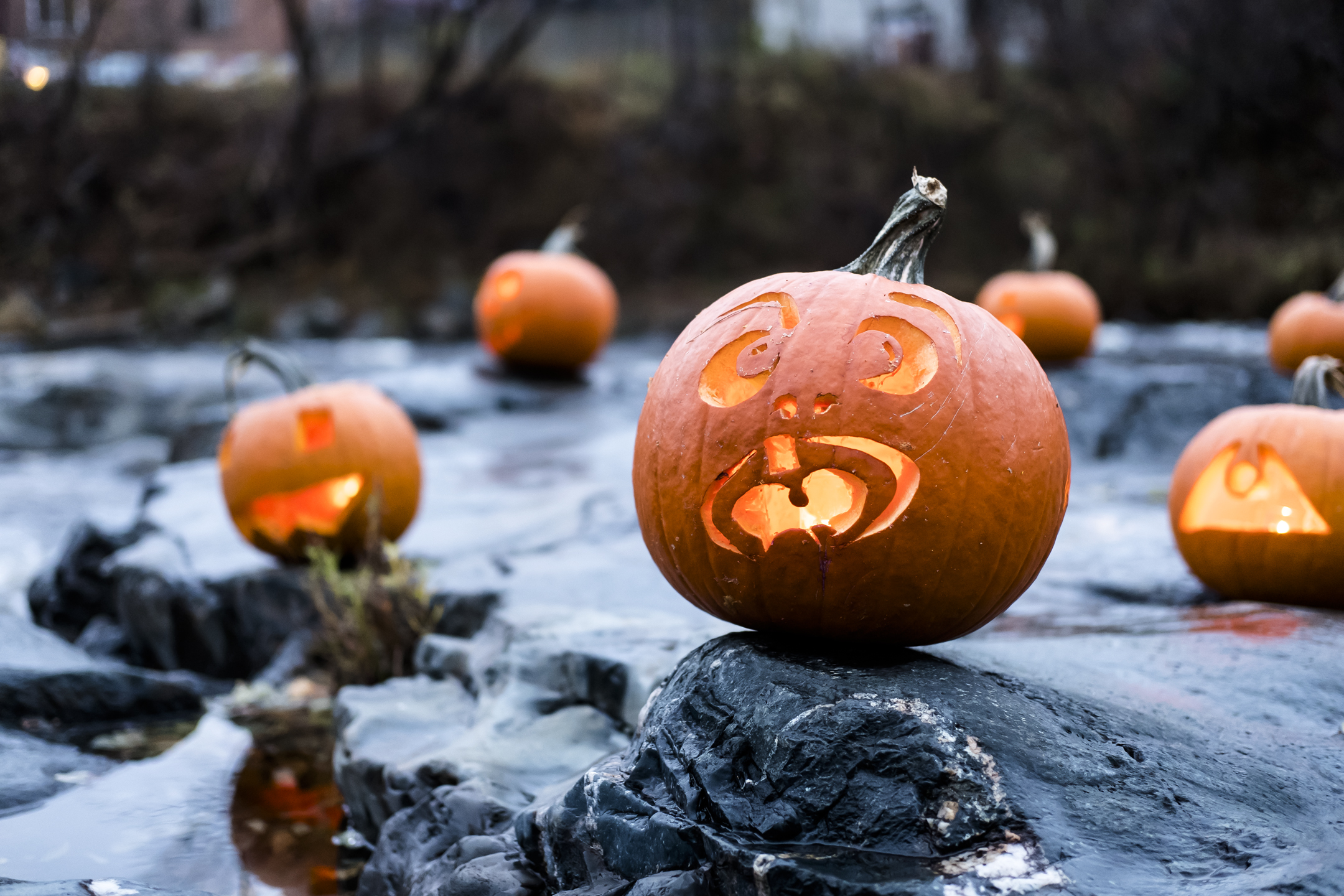 Photo by Zachary Sar
 Schedule Of Events
FRIDAY, OCTOBER 26
6pm – Annual Boofest at the Colonial Theater in Bethlehem featuring Modern Times Theatre! Adult tickets $10, 12 and under free.
Noon–5pm (FRI & SAT) – Pumpkins that have already been carved may be dropped off at Littleton Bike & Fitness. Candles are not necessary, we will provide them. Let's break our record of pumpkins on the river from last year!
5pm–7pm – Time Out Timmy / Mad Cat Habitat Halloween Show at The Loading Dock
SATURDAY, OCTOBER 27
10am–12pm – Annual Littleton Police Department Halloween Festival at the Littleton High School for grades K–6. Pumpkin carving contest, bouncy houses, Home Depot kids build kits, face painting, donuts and cider. Participants are encouraged to bring a ready-to-carve pumpkin (scooped out); there will be a limited number of pumpkins available on a first-come, first-served basis.
Noon–3pm – Chili Cook-off at the Littleton Food Co-op.
Noon–5pm – Become a Zombie for the evening's festivities! Stop by Aylakai, you bring your costume we will help with the makeup.
2pm–4pm – Trick-or-Treat on Main St., Mill St. and Cottage St. If you see a skull and crossbones in the window, this means the storeowner has graciously bowed out of the treat giving, so please abstain from bringing wily trick-or-treaters inside.
3pm–8pm – Refuel! Fill up with delicious food from vendors located along Riverglen Lane. Vendors include, Profile High School Arts Alliance, Alburritos, Cafe YM 360, and New England Kettle Corn!
5pm–8pm – Bake Sale – The Littleton Senior Center including donuts, whoopie pies, cookies, brownies, cider, hot chocolate, and coffee.
4pm–6pm – The Pumpkin Patch Hangout at the First Congregational Church. Warm food and kid-friendly activities available.
6pm – Zombie Walk All Zombies are encouraged to meet at Aylakai on Main St. for the ghoulish infestation of the Riverwalk Area.
6pm–8pm – Haunted Trick-or-Treat hosted by the Upstage Players; Family friendly, $3 adults, $2 children, kids 5 and under free.
6pm–9pm – Gathering of the Jack'O'Lanterns. View hundreds of pumpkins illuminating the Ammonoosuc River. Enjoy a bonfire built and lit by the Littleton Volunteer Fire Department.
7pm – Phoenix Bazaar An eclectic troupe performing with fire and LED props. (Fire only available in VT and MA).
8pm–10pm – House of Terror Get scared! Hosted by the Upstage Players; Adults only, $5 per person.
9pm – Halloween Special: Rocky Horror Picture Show at the Colonial Theatre. Doors at 8:00pm for cash bar, the evening's signature cocktail (Time Warp Punch) and free Hor d'ourves (Frank. N. Furters and Meatloaf) and costume ogling. RHPS behavior of all sorts encouraged.
SUNDAY, OCTOBER 28
9am–11pm – Buffet Breakfast fundraiser at the Littleton Senior Center.
Special notes and considerations from the Littleton Police Department:
 Riverglen Lane (the road beside Littleton Bike & Fitness that runs along the river) will be closed from 2pm–9pm on Saturday.
Public parking is located at the Littleton Opera House, behind Jax. Jr. Cinemas, and behind Mascoma Savings Bank.
Please be respectful to others, have fun, and enjoy this event. Hooliganism will not be tolerated!
A huge thank you to our sponsors!
For more info, contact:
Nathan Karol
Littleton Area Chamber of Commerce
603-444-6561
nkarol@littletonareachamber.com