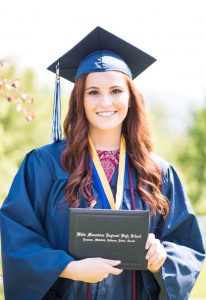 Skylar grew up in Lancaster and is a 2017 graduate of White Mountains Regional High School. She is attending Endicott College for Hospitality Management with a concentration in Event Management and a minor in Dance. Continue reading to learn more about Skylar.

Why did you decide to intern at LACC?
While searching for a internship, I realized that a lot of larger hotels and event companies aren't near me. I had to do a lot of searching and I thought that I was going to end up staying downstate to complete my internship. However, one of my friends at Endicott mentioned that she had done an internship at the Chamber of Commerce in her town and she loved it! She told me that it is a great start for an internship in the Hospitality field, because the Chamber plans events all over the area. As an aspiring event planner, I thought this would be the perfect start to my future as an event planner!

What is your post college dream job?
My dream job after college is to be a wedding planner, but I wouldn't mind planning other events as well. However, if I decided that event planning wasn't working out, I would LOVE to work in a luxury hotel!

How do you think your experience with LACC will help you in your career?
I think that my experience at LACC will help me with my career, because I am learning a lot of different aspects of the hospitality industry. From planning events, to marketing, to social media aspects, etc. I feel as though I am learning a lot of great skills sets that are going to be a asset to my future of work. I also believe that being a part of a Chamber, means meeting all the members of the local businesses and networking. This is huge in this industry, because you have to be great with people and willing to put yourself out there.

What do you love about the Littleton Area?
I have lived in Lancaster, NH my whole life, but I frequently come to Littleton! Whether it is to shop, eat, or to visit the river district. I love walking along main street as well and seeing all the local businesses, they are some of my favorite places to shop. Plus, there are endless places to eat here and they are all delicious! The town is just so friendly and there are a lot of places to go and things to see in just one small town. Even with the temperatures lately, you can't complain about living in the mountains!

What are your favorite hobbies and activities?
Dance is my all time favorite activity. I danced for 11 years at Dance Images and now I am going into my 12th year of dance at Endicott College. I am apart of the Repertory Dance Ensemble at Endicott College. I am excited that I have the opportunity to continuing dancing in college. Aside from dancing, I love to plan events, work with kids, shop, spend time with family and friends, and listen to music.