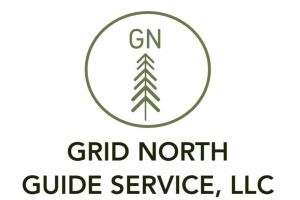 Grid North Guide Service's mission is to provide their guests the opportunity to experience the beauty of the New Hampshire Wilderness through various activities, such as fishing, canoeing, ice fishing, and more.
We spoke with owner Paul Starring to get the scoop on Grid North.
When did you open Grid North Guide Services?
I started Grid North Guide Service, LLC in 2016 after I became a Licensed New Hampshire Fishing Guide. Working as a teacher at the Woodland Community School in Bethlehem kept me busy during the 2016-2017 school year, but I used my free time preparing to guide during the 2017 spring, summer, and fall months. My first guest was from California and he was interested in catching eastern brook trout. I took him to a spot where the fish were rising and he caught his fill of rainbow & brook trout.
Why did you decide to open Grid North?
I have always loved the outdoors and for years I searched for jobs that would put me in an outdoor environment. The idea of becoming a guide was on my mind for years, but it wasn't until 2015 that I started to pursue it. A NH business, called the NH Outdoor Learning Center, offered a three day course to prepare individuals for the NH guide test. The test included a written portion and an oral board test. Upon passing the written test I went before a board of two conservation officers and a local guide/retired conservation officer. The test comprised of showing comprehensive map & compass knowledge, first aid, fish identification, boating laws & safety, and a lost person scenario. As an outdoorsman I am continually trying to become better in the outdoors and learn new skills. The NH guide test not only gave me the chance to become a guide, but was a way to test myself as an outdoorsman. At the end of 2016, I decided to challenge myself even more and began to prepare for the Maine guide test, which is known to be one of the hardest guide tests in the country. In the spring of 2017 I became a Registered Maine Guide for Recreation & Fishing. I guess to sum it all up; I enjoy the challenge of the outdoors, the continued need to learn new skills, and the ability to pass my knowledge and passion on to others.
What do you love about being a guide?
I love the forests, mountains, fields, lakes, rivers and streams of NH. There is nothing better than standing in a beautiful river, casting a fly, and looking at the pristine beauty of the White Mountains. Being able to take a guest outdoors to experience what I love is great. I have guided individuals who are both experienced and beginners. Most guests are interested in fly fishing and hire me as a guide for my knowledge of the area and for a better chance to catch fish, which is never a guarantee. I enjoy watching a guest catch a fish and fight to bring it in, almost as much as I love catching fish. The excitement on their face gives me a great sense of satisfaction.
Activities Grid North can guide you on:
Fly fishing – multiple fish species in a boat or wade fishing
Spin Fishing – multiple fish species in a boat or wade fishing
Ice Fishing
Canoeing 14' Old Town Canoe – paddle trips and fishing
Fishing from my 21' Freighter Canoe with outboard engine.
Scenic boat rides in the freighter canoe
Wilderness Navigation classes
Coming soon – Multiple days remote fishing trips into Maine – Fly into remote lakes & ponds by seaplane or hike in.
Which town do you live in?
I moved to NH when I was four and Littleton has been my home for 30 years. I live in an old farm house (1839) with my wife and three daughters.
What do you love about living in the Littleton Area?
Growing up in Littleton I spent the majority of my time outside either behind my house or hiking through the woods with my friends. I have fond memories of grabbing a fishing pole with my best friend and heading down to a pond near his house to catch pickerel, when were only 9-10 years old. Now that I am older I still pursue my outdoor hobbies like fishing and hunting, but also enjoy the ability to grow vegetables, raise chickens & pigs, and harvest firewood of my land. Being on the outskirts of Littleton I have the ability to enjoy all the outdoor activities I love to pursue, but I can also quickly head into town to spend time with my family eating at a great restaurant or shopping on Littleton's beautiful Main Street. Littleton is also a great place to raise a family and my daughters can experience everything this area has to offer. I am truly blessed to live in such a great place.