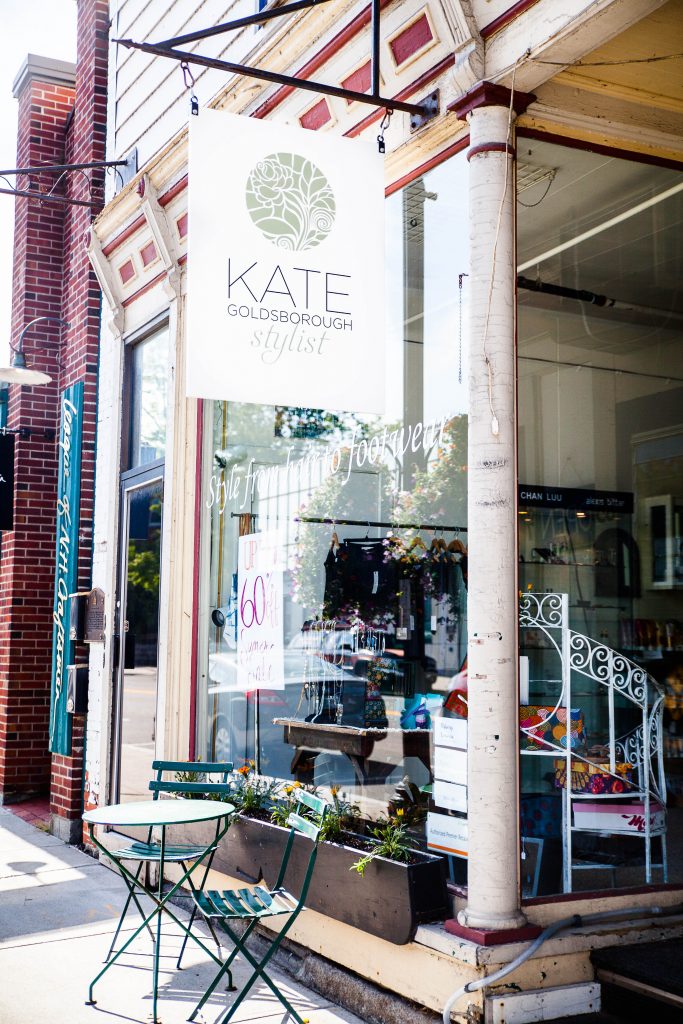 Kate Goldsborough Stylist is an unusual shop for our area. Owner Kate Goldsborough offers her trained eye and New York style to anyone looking for an a la carte or complete makeover. Her shop, formerly known as Art To Go, is located at 85 Main Street in Littleton.
How did you become a stylist?
After graduating Bennington College, I pursued an acting career in New York City where I did my advanced training. Through the years in school and beyond, make-up and wardrobe processes were running alongside the craft of acting. I borrowed techniques from the stylists for fun and because I was interested. Through that, helping friends, plus lots of shopping as research- of course- I discovered I'd inherited an eye for color from my artist mother, Carole Goldsborough McMillen and and the hand/eye from both she and my surgeon father, Richard H. Goldsborough. Long before I earned my cosmetology license, I found I had the ability to help people bring out their looks, and I found it gratifying that I could manifest my vision while giving them an emotional boost.
Is that your mission?
As the tagline on the front of the store implies, I help women with their look from hair to footwear. But my brand line is, "Get a look that turns your head."  What I do is for the client herself. So much of beauty is about having your own style, and style doesn't mean fashion, style means, "I choose to be who I want to be, presenting what I want to present."
I coach where I see I can help, and that sometimes falls into the area of confidence.
Why did you decide to bring styling to Littleton?
Though I've been a consistently evolving retail store, and I've been on Main Street since 1995 as Art To Go, Kate Goldsborough Stylist is a change from an emphasis on retail to a total style center, which also includes boutique offerings. But when I decided to re-brand I was super unsure as to whether the market could sustain the unusual business model. I decided to put everything I do under one umbrella.  My clients seem to like it, and when I was in B School (online marketing training for entrepreneurs), Marie Forleo was wowed by the idea.
I had a lot of help from experts around me. Kate Goldsborough Stylist is the evolution of my abilities and proclivities—but it was one scary move to brand the business as me. And who's ever heard of a style center? Especially in the North Country!

I went into Kate Goldsborough Stylist rather bedraggled and came out shining! She is very kind and really knows how to bring out the best in her clients. I get compliments everyday from my new look. I never thought my hair could look this good. I have a skincare and makeup regime I can easily do myself. I love the clothes she picked for me and look forward to buying more. – Virginia W., Manchester VT

What services and products do you offer?
I offer a total makeover. Or people can do just their clothes, hair, makeup, skin, whatever.
The official list includes:
Cut • Color • Brows • Personal Styling • Closet Transformations • Photo Styling • Events • Inner Confidence
But I also address ongoing health for beauty from the inside out.
Browsers can stop by the Main Street location to inquire about working with me on site or have consultations from afar.
I also offer a six-week group class. 603 616-9211 or kategoldsborough.com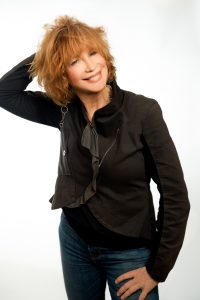 Which town do you live in?
Bethlehem
What do you love about the Littleton area?
As a shop owner, I love that so many places converge here:  Canada, Vermont, Maine, Mass all touch NH and it's not a big effort to get to Littleton. It's fun to hear French in the shoe aisle of TJ Maxx! We have cool shops and businesses on a street that has the advantage of being an old fashioned walking street, and people are charmed by it. As a resident, I love the countryside, skiing, and New England beauty, but there's also music, art, theater, and a cool community of people.