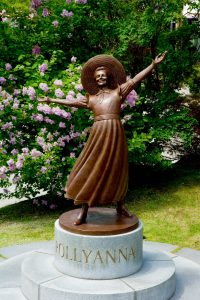 New Hampshire's most welcoming attraction is the centerpiece of historic downtown as an ambassador of cheer and community spirit for residents and visitors alike.
Set on the lovely Littleton Public Library lawn, Littleton's jubilant bronze sculpture tributes our hometown author, Eleanor H. Porter (1868 – 1920) best remembered as the creator of the world's most optimistic character, Pollyanna, 1913.
Each June, a free event in downtown Littleton is held to celebrate Gladness.