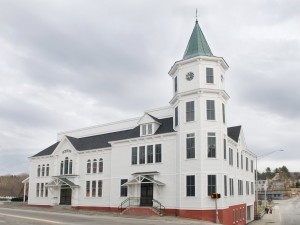 The Littleton Opera House stands tall and proud as the staple of Littleton's Main Street, and its performance venue is available for your next event! Large or small, the Opera house is suitable for many occasions.
The Opera House is located at the entrance of Littleton's vibrate downtown area, at 2 Union Street.
Rental information can be obtained by calling Sue Pilotte, Opera House Manager (603) 991-3207 or stopping by the Opera House, Monday through Wednesday 10am – 2pm and Fridays 10am – 12pm. 
Feel the history course through your veins as you hold your meeting, performance or party on the same stage as some of Littleton's most notable historic figures.
The Grand Hall has a balcony seating area (170 fixed seats) and the main floor has a beautiful hardwood floor and offers up to 264 seats for attendees of meetings and performances. Total seating within the Grand Hall is 434. Our expansive Grand Hall floor is perfect to kick up your heels for your next party, your next meeting, or any event needing a larger space. Our stage can hold bands, as well as theatre groups to name a few.
The performance venue is managed by the Town of Littleton and has an office for Opera House rentals and information located within the building.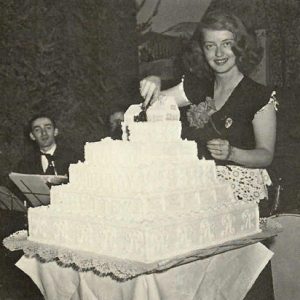 The venue is the perfect setting for dances, performances, dress rehearsals, fundraisers, weddings, parties, and meetings with its wide open floor plan, stage area and balcony seating.
The Opera House also has another perfect smaller rental space in the building located in the tower "The Tower Room". This room overlooks Main Street and is suitable for meetings, wedding showers, baby showers, birthday parties, and smaller size events for groups under 50 people.
Whatever the occasion, hold your next event at the Opera House, which has hosted such notable events as a 1941 birthday ball for legendary actress Bette Davis.
Upcoming Events:
Zumba Every Tuesday and Thursday (unless noted by Patience via her facebook page) with Patience Marsh 5:30 to 6:30-open to public
Saturday, July 8, 2017 Music on The Noosuc (*back-up venue-in case of rain) 11:00am
Music festival is scheduled to take place at the end of the covered footbridge in Littleton. It will be held at the Littleton Opera House *only as a back up in case of rain*
Wednesday, July 12, 2017 North Country Health Consortium Community Awareness Outreach Event
6:00pm
Thursday, July 13, 2017 North Country Chamber Players-Open Rehearsal 1:00pm
Thursday, July 27, 2017 Children's Musical "A Forever Frozen Story" 7:00pm
Saturday, July 29, 2017 Benefit Concert for The Tyler Blaine House-Fundraiser for Homeless Shelter. All Day Music Event-17 bands will play through out the day starting at 9am
TOWER ROOM SCHEDULED MEETINGS/EVENTS>
Thursday, July 6, 2017 Energy Conservation Committee 5:00pm
OH Rental Office
Thursday, July 6, 2017 River District Meeting 5:00pm
Saturday, July 8, 2017 Frost Place Board Meeting 9am – 4pm
Tuesday, July 11, 2017 Granite State Power Link
Community Meeting Open House 6:00pm
Thursday, July 20, 2017 North Country Council 12pm – 4pm
Thursday, July 27, 2017 TBOS Co usage for their production staff
Saturday, July 29, 2017 Bridal Shower 11am – 5pm
Littleton Park Commissioners meeting-First Thursday of the month 5:45 pm
River District-meeting every other month (Second Thursday) 5:00 pm
Profile Cable Consortium-meeting every second Thursday of the month  6:30 pm