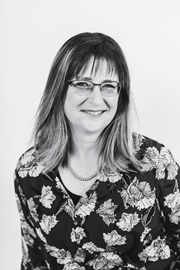 Meggen Wright has joined the Littleton Area Chamber of Commerce as its Administrative Assistant. Meggen has been a business member of the Chamber since 2018 and owns Restorative Health Therapies, LLC, which offers yoga and movement therapy in the Tannery Marketplace.

Prior to becoming a certified therapist, Meggen worked in the Washington, DC metro area as a digital advertising account and operations manager for a global Weather Intelligence company, and as a sales support specialist for a computer graphics equipment and software distributor. She brings over 30 years of experience in client services, account management and relationship building to the Chamber and is eager to support local businesses in expanding their reach in the community.
Meggen will begin on January 13th and be in the office on Monday, Wednesday and Friday. Members and community stakeholders can reach her for a variety of assistance at office@littletonareachamber.com 
or 603-444-6561 x 11. Welcome Meggen!