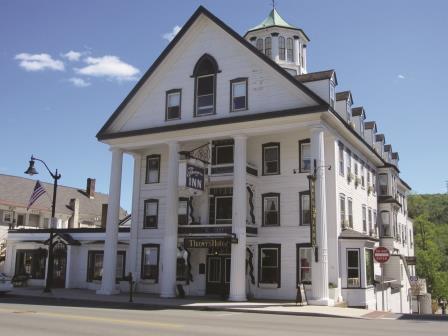 In the early 1840's Henry L. Thayer was a successful Littleton merchant in the early 1840s. He had always dreamed of building a modern hotel with character. Despite warnings of failure, the dream started taking shape in 1843 when he purchased the lot just east of his store. Although the exact year construction began is unknown, sources indicate January 14, 1850 as opening day for "Thayer's White Mountain Hotel." Thayer's found success not long after when the railroad came to Littleton in 1852.
Additionally, stagecoaches were owned and operated by Thayer to transport guests between the hotel and the train depot as well as on tours of Franconia and Crawford Notches.
Henry L. "Dad" Thayer and his son Frank operated the hotel into the late 1800's. In 1984, "Thayer's White Mountain Hotel" became simply "Thayers Inn."
With its Greek revival architecture and commanding position on Main Street Littleton, the hotel maintains a long history of hosting Presidents, leading politicians, celebrities and other notable dignitaries. Slanted doors and crooked floors add character to the building and is testament to its heritage and post and beam construction. Today the hotel comprises of 35 bedrooms and suites, Grill One Eleven restaurant – serving lunch and dinner, and space for private and corporate events.