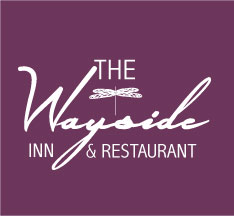 The Wayside Inn opened in Bethlehem around the 1910s with current owner Sarah Levy taking over in August 2017.
Tell us about your experience in the hospitality industry.
Sarah went to college in Philadelphia where she stayed to work for Marriott Hotels. Within six years she worked her way up from bar tender to hotel general manager and ended up at a Marriott near her hometown of Hopkinton, Massachusetts.
When Sarah left Mariott, she worked on cruise ships and river boats for American Cruise Lines, then returned to Mass where she took a 9 to 5 job at a hospitality company in Boston. The company was soon to close, so "I was trying to figure out what to do next," Sarah explained. "Owning an inn and restaurant has been a dream of mine since I was 14 years old."
Revisiting her dream, Sarah had searches flagged on websites that would email her when a lodging property came up for sale in the New England area. That's when she found The Wayside Inn.
Why did you decide to purchase The Wayside Inn?
"It's extremely beautiful and has a ton of potential," revealed Sarah. "It was so close to Lincoln where I would come as a kid. I came, looked at it, fell in love, and placed my offer."
Tell us about what you offer, including your restaurant, at The Wayside Inn.
The inn has 26 rooms and a menu Sarah came up with that has been tweaked by Chef Josh Beemer, a Colorado Springs native who has been an executive chef for several years, most recently in Portsmouth before joining The Wayside Inn.
According to Sarah, the food is upscale American fare. "It's really important to me that my hotel guests can find something they like on the menu," she explained. "We haven't pigeonholed it to one type of genre and change the menu seasonally to mix it up for the locals. We also try to add all kinds of new specials so people have something new to try."
The restaurant overlooks the Ammonoosuc River, and with the addition of a new patio, will have outdoor seating within the next few weeks. The Wayside Inn is also now open for lunch Saturday through Monday from 11:30 a.m. to 2 p.m. with a Sunday brunch menu served from 9 a.m. to 2 p.m.
What do you love about the Littleton area?
"I love the energy here and how peaceful it is," said Sarah. "Since I've moved here I've really come to love the community and the people. I feel truly lucky. I've definitely been embraced by the Bethlehem community as well as in Twin Mountain and Littleton. I love the scenery, the nature, and to be able to go hiking.
When you find a few moments in your busy schedule, what do you love to do?
Aside from hiking, Sarah is a foodie who tries to eat out once a week. She's tried the restaurants in Bethlehem and is now working her way through Littleton. She also tried skiing for the first time last winter.