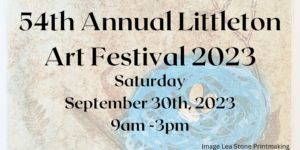 Join us for The 54th Annual Littleton Art Festival 
September 30th from 9am to 3pm in downtown Littleton!
This event is rain or shine and will coincide with several other events in Littleton including the Antique Car Parade hosted by the Lion's Club. There will be demonstrations from the League of New Hampshire Craftsman at their storefront location and a Historical Tour of downtown provided by the Littleton Historical Society. We will continue our tradition of selling our commemorative Art Festival posters this year for the 54th Annual Art Festival. We sought submissions for this year's poster and are excited to announce this year's artist is Lea Stone who submitted a beautiful example of her printmaking.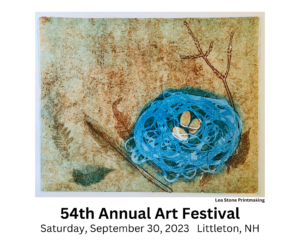 This year we will also be inviting two food vendors to join us, Stella's Dogs who offers authentic Polish sausages, and Lady Shay who will be bringing her truck full of deliciousness! So bring your appetite and enjoy a great day downtown!
The Littleton Public Library will be having their Book Sale at the Opera House from 9am to 1pm.
Schilling's will be having Oktoberfest at their riverside location from 11am to 8pm.
After a hiatus last year the Littleton Community Center, All Saints Episcopal Church and the Littleton Garden Club will be bringing back their Pie Fest to the Littleton Community Center!
The Littleton Food Co-Op will be unveiling their new mural at 11am, so be sure to stop by and enjoy this artwork as the Co-Op joins us in celebrating events all over Littleton!
These are just some of the events happening throughout Littleton, more information will be available on our website at littletonareachamber.com and in our newsletter as we work with community members and businesses to make this year's Art Festival better each year!
For more information please reach out to Meg Basnar at office@littletonareachamber.com or by phone at (603) 444-6561
To register as an art vendor click the button below and complete the registration form

Thank you to this year's sponsors!
Thank you to our Top Tier Sponsor who contributed at the Community Sustainer Level:

Thank you to the businesses that sponsored at the Second Tier Level as an Art Festival Partner:
Thank you to the business that sponsored at the Third Tier Level as an Art Festival Friend:

Last but absolutely not least thank you to the businesses who chose the Individual Partnership level and sponsored as an Art Festival Supporter:
Thank you again to all of our generous sponsors at every level!