Paul Harvey & Dave Harkless Chosen as 2019 Citizen and Volunteer of the Year
The Littleton Area Chamber of Commerce staff and Board of Directors are pleased to announce the recipients of the 2019 Citizen & Volunteer of the Year Awards.
Paul Harvey the 2019 Citizen of the Year is a Littleton native. He graduated from Littleton High School in 1969. In August of 1967, he worked for Doug Brown and the Littleton Cemetery Crew, and continued to work summers there through high school and college, returning full time after college. In the early 1980's, he managed Glenwood Cemetery and other cemeteries in Littleton. He enjoys keeping our cemeteries beautiful and well kept.
He married his wife Heidi in 1985, and they have two children and one grandson. In addition to his commitment to Littleton's cemeteries, he has volunteered for the Littleton Fire Department and worked for Cannon Mountain and Ross Ambulance.
Dave Harkless, the 2019 Volunteer of the Year is a Littleton resident and the tireless owner of Littleton Bike and Fitness. In addition to being a resident and established business owner, Dave has contributed many successful ideas that have enriched this community and beyond. To name a few of his accomplishments, Dave created and organizes the annual Gathering of the Jack O'Lanterns event which attracts thousands of people to the area.
Dave Co-created and assists with leadership of the Mt Eustis Ski Hill in Littleton. These community activities have charitable components that help children learn, develop social connections and improve fitness.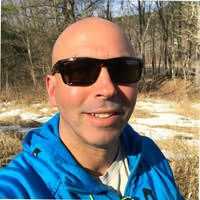 Additionally, Dave is a board member of PRKR Mountain Trails. A little-known fact is that Dave also studied Culinary Arts at Johnson and Wales University. Dave is really cookin' when it comes to volunteering his time and talents with our residents and visitors!
Both Paul and Dave will be celebrated at the Chamber's 98th Annual Meeting & Awards Dinner being held on Thursday, January 23, 2020 at the Omni Mount Washington Hotel.
For more information, please contact the Littleton Area Chamber of Commerce at 603-444-6561 or info@littletonareachamber.com
The Littleton Area Chamber of Commerce is a 501(c)6 non-profit organization, our mission is to promote economic development in the Littleton area by attracting and growing local business, providing valuable resources to our membership and branding the area for tourists and relocation.